Hi there!
I have a few automatizations on Zapier and I'm seeing if I can use them on activepieces.
The one I'm having trouble with is the following:
Everytime I create a new google document in a certain folder, I want it to be included in an excel that I use as an Index.
I'm having 2 problems:
The info that appears on column 3 when I set up, goes to column 2.
I don't see how to choose the url of the new document, this is the most important info I want to include in the excel. In zapier this info is called: "embed link". In activepieces I just see the tail of the url (ID info) but I cannot choose a whole url.
I just see this: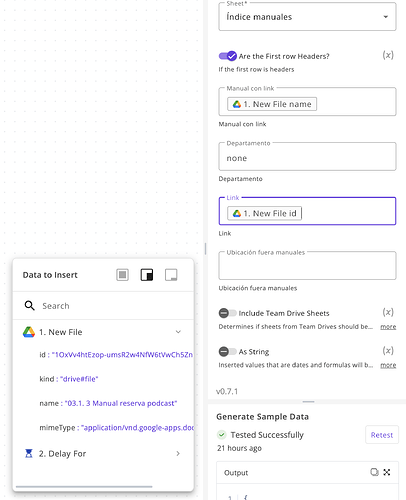 In zapier, the same flow shows more options, like this:


Can anyone help me?
If this isn't available in Activepieces, I'm afraid I'll stick with zapier.
Thaks!!!